Tortine di Ricotta/Orange, Ricotta, and Olive Oil Muffins by Amy Riolo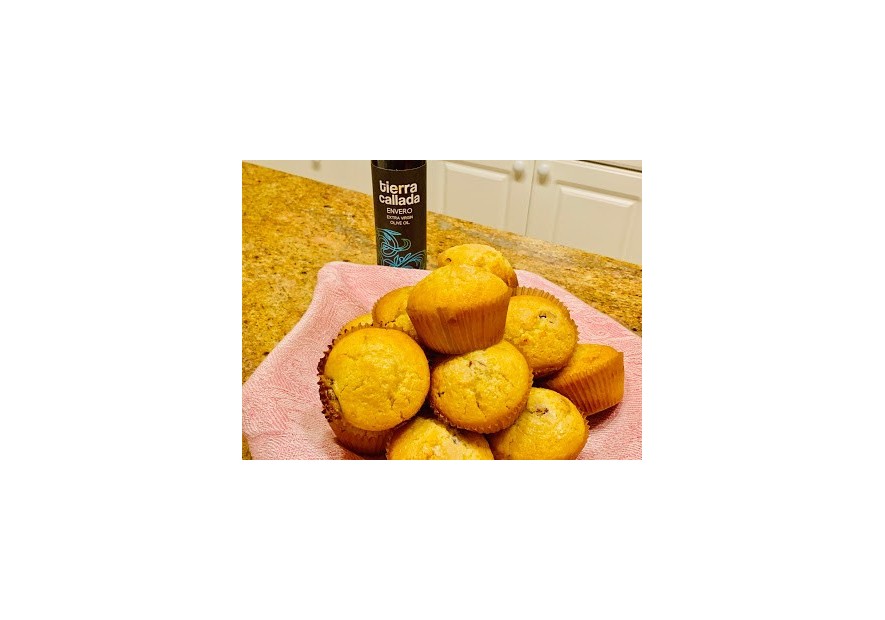 Tortine di Ricotta/Orange, Ricotta, and Olive Oil Muffins with Dried Cherries

Recipe by Amy Riolo. She is a good friend of Tierra Callada and an world expert in Mediterranean cuisine and diet. Author of several books, culinary diplomat, traveler... Please, if you do not know her, go to her web here!
Makes 12 muffins
Active time: 10 minutes
Baking time: 20 minutes

American muffins, which are actually quick breads baked in special tins, gained popularity in the early 19thcentury after the invention of baking powder. Nowadays ubiquitous muffins often get taken for granted in the US, but in Italy they are one of the fastest growing culinary trends, along with brunch and other American-style sweets.
I created this recipe to highlight authentic Mediterranean ingredients – such as the almonds, ricotta, olive oil, and citrus that often grace southern Italian breakfast tables. I have been baking muffins since I was a child, and this recipe is by far the best version I have tasted.
The ricotta creates a feathery-light crumb, while the smooth, fruity - almond notes of the Envero picual early harvest extra-virgin olive oil from Tierra Callada enliven the citrus zest and cherry flavors. A great addition to breakfast or afternoon tea, these muffins can also be made in advance and frozen for up to a month.
1 2/3 cups all-purpose flour
1 1/3 cups whole milk ricotta cheese
1/3 cup Tierra Callada Envero EVOO
1/4 cup almond milk
1 large egg
1 teaspoon pure vanilla
¾ cup turbinado sugar, plus 1 tablespoon
2 teaspoons baking powder
1 cup dried cherries
Zest and juice of 1 orange
Heat oven to 400°F. Place paper baking cups into a 12-cup muffin pan. Set aside.
Combine ricotta cheese, Tierra Callada Envero extra-virgin olive oil, almond milk, egg and vanilla in a large bowl and mix well to combine with a wooden spoon.
Stir in flour, ¾ cup sugar, and baking powder and mix well to combine. Carefully stir cherries, orange juice and orange zest into batter. Spoon batter evenly into prepared muffin pan cups. Sprinkle tops with remaining sugar.
Bake 15-20 minutes or until toothpick inserted in center comes out clean. Cool 5 minutes in pan; remove to cooling rack.
Premium "all in one" every day oilMedium intensity extra...